AJ is the oldest of the brothers (born 11 July 2007) but he is also the whiniest of them all and yet he stands up for himself. He was cy-germed from the last cy-germ of Christopher Delorean (his grandfather) but is the first of his father, Connor Harding-Delorean.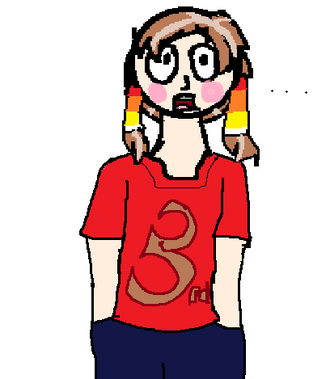 Appearance
He has brown hair with pale brown streaks in his hair and like his father and brothers, has LED lights (red, orange, yellow and white) hanging from him. He is usually in a red t-shirt and bark blue trousers and brown shoes.
In the chapter following The birth of the Natasha 2, he is in a ward in the Pediatrics in a hospital night gown and red slippers with his initials on them.
Appearances
His first appearance is in Edward Cliff's Reformation but he is very silent as he has fallen asleep from complete boredom.
In The birth of the Natasha 2, he tries to get his mum, Diana to stop over eating the bags of chips from the chippers but fails in the process. He, his dad, Jamie Walker and a man help Diana get to the hospital in which he becomes sick from describing the sight of his mum at the chippers.
Did You Know?
AJ is named after AJ Locascio, the 2nd VA for Marty (Back to the Future: the game).

The streaks in his hair is a reference to the Regular Show episode Skips' Stress where the immortal character, Skips where due to his stress, thick dark lines appear on his body. So the streaks in AJ's hair might represent his whiny moments.
His whiny personality came from a comment on the voice comparisons page for Marty McFly on Behind THe Voice Actors website where a user put AJ Locascio at 3 and put next to it "-whiny whiny whiny"