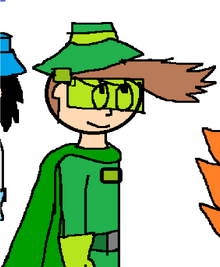 Green Wings Man (formally Edd Burren is the title character of Green Wings Man. Despite being a teenager, his height is 6ft 3inch and he knows every danger around him including WARREN agents in disguise.
Life
Early Life (Childhood)
Edd Don Adams Burren was born on 25th November 1998 in Athlone, County Westmeath, Ireland by home birth. He became good friends with Jamie Walker he went missing in mission and rescued a young Terry Leopold from Danny Mason's son, Harry Partridge. On his 7th birthday, he grew up to 6ft 3inch and got the appearance of his uncle's younger self (6 point tuft of hair) and went through 60 second puberty.He and his uncle, Green Cyborg left for Felicity in the early hours of 26th November 2005 along with an infant, Terry Leopold.
Pre Cyborg years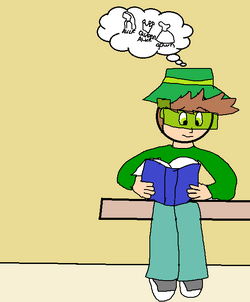 Edd was given daily lessons from his late uncle and at age ten, they practiced Green Cyborg's death, in which Edd Burren barley shed a tear about.to show maturity. It evident at the start of chapter when Green Wings Man (formerly Edd Burren) asked someone to call a hearse. In Goodbye, Uncle he questions why Lewis Carroll didn't mention about Alice's monarch outfit in Chapter 9 of Through the Looking Glass and says of how Tatiana would explain it in the most ridiculous way possible. The chapter also reveals his date of birth along with Tatiana's. He calms his uncle down by telling him that everyone is looking at him along with telling his mother about Rebecca and asking his uncle about her mother (Rebecca's mother).
Becoming an Irish Cyborg
Appearance
Roles
Other than being an Irish Cyborg Agent, Green Wings Man has taken on other roles.
Relationships
Conception
Did You Know?