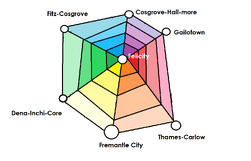 The Hexagon Felicity is the name of 6 hexagons that connect mainly to Felicity to create an irregular sided hexagon. It also connects to 5 other towns and Fremantle City.
Red Zone
The Red Zone will appear in Green Wings Man - Teenage Cyborg and is the first zone to touch the Lumberbell Path. The towns in the Red Zone are Gailotown (gale-o-town), Thames-Carlow and Felicity. The zone spirit is Gandolfini, the son of former candidate for this zone, Paul Gandolfini who succumbed to a heart attack in 2004. He is supported by his girlfriend, Felice a French Irish Cyborg.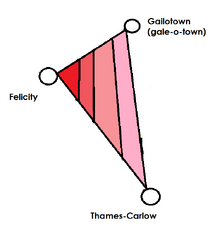 The Irish Cyborg in Gailotown (gale-o-town) opened in 1961 on the site of a RuffleCarter Hotel that was torn down by the DO NOT PULL tag in the hotel that was pulled by the late Green Cyborg (1949-2012) in 1960.
The Irish Cyborg Centre in Thames-Carlow opened in 1979 on the site of a WARREN hostile tower.
Orange Zone
Yellow Zone
Green Zone
Blue Zone
Purple Zone
Like the Blue Zone, the Purple Zone will appear in Leap Year Double but unlike the other zones, it doesn't touch the Lumberbell Path. It's zone spirit is Red E Aaron and it is in the same town as the Secret Agent Base, the brother community to the Irish Cyborg Community. The towns in the Purple Zone are Cosgrove-Hall-More, Felicity and Gailotown (gale-o-town).
Lumberbell Path
The Lumberbell Path connects is a path that connects to the towns and city that has an Irish Cyborg in The Hexagon of Felicity.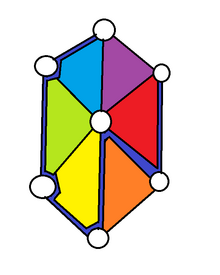 Ad blocker interference detected!
Wikia is a free-to-use site that makes money from advertising. We have a modified experience for viewers using ad blockers

Wikia is not accessible if you've made further modifications. Remove the custom ad blocker rule(s) and the page will load as expected.